Goal III - Taking On The World (2009) (it)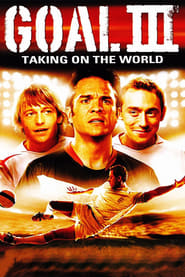 Titolo originale:
Goal! III : Taking On The World
Valutazione:
3.9 (Voti: 124)
Data di rilascio:
2009-01-01 (2009)
Goal III - Taking On The World:
Santiago Muñez (Kuno Becker), Liam Adams (JJ Feild) e Charlie Braithwaite (Leo Gregory) vengono selezionati dalle rispettive Nazionali per partecipare ai Mondiali 2006 in Germania. Prima dell'inizio del torneo i tre viaggiano in Romania per girare uno spot pubblicitario, restando coinvolti in un grave incidente stradale che impedirà a Muñez di prendere parte ai Mondiali a causa della frattura di un braccio e di alcune costole. Gli altri due riusciranno invece a recuperarsi dalle ferite in tempo per l'inizio del torneo, ma la tragedia è dietro l'angolo.