City of lies - L'ora della verità (2018) (it)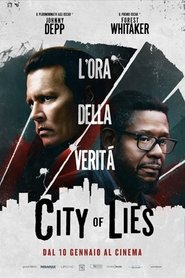 Titolo originale:
City of Lies
Valutazione:
6.4 (Voti: 321)
Data di rilascio:
2018-09-06 (2018)
City of lies - L'ora della verità:
Il detective del dipartimento di polizia di Los Angeles Russell Poole ha passato anni a cercare di risolvere il suo caso più grande: gli omicidi di The Notorious B.I.G. e Tupac Shakur - ma dopo due decenni, l'indagine rimane aperta. Jack Jackson, un reporter alla disperata ricerca di salvare la sua reputazione e la sua carriera, è determinato a scoprire perché. Alla ricerca della verità, i due collaborano e distruggono una rete in crescita di corruzione e bugie istituzionali.