Chi ha incastrato Roger Rabbit (1988) (it)
Motto: Un uomo, una donna, e un coniglio creano un triangolo pieno di guai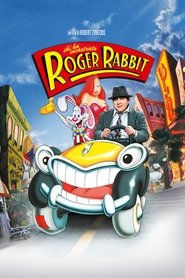 Titolo originale:
Who Framed Roger Rabbit
Valutazione:
7.5 (Voti: 4314)
Data di rilascio:
1988-06-21 (1988)
Parole chiave:
mental breakdown
,
cartoon
,
movie business
,
movie star
,
love sickness
,
innocence
,
1940s
,
private detective
,
los angeles
,
california
,
suspicion of murder
,
rabbit
,
whodunit
,
cartoon rabbit
,
live action and animation
,
falsely accused
,
neo-noir
Chi ha incastrato Roger Rabbit:
In uno studio cinematografico due cartoon stanno recitando una scena: Baby Herman, un poppante tutto pepe e pieno di trovate, e il suo baby-sitter, il coniglio Roger, che per togliere il piccolo da situazioni rischiose si mette in grossi guai. Nonostante l'impegno Roger non soddisfa il regista con la sua interpretazione: egli infatti è assillato da preoccupazioni familiari, teme che la sua bellissima moglie Jessica lo tradisca col padrone di Cartoonia, Marvin Acme. Viene incaricato di trovare le prove del tradimento il detective privato Eddie Valiant, sempre senza soldi e mezzo alcolizzato da quando suo fratello Teddy fu ucciso cinque anni prima da un cartoon. Eddie riesce a trovare ciò che cercava e per Roger è la disperazione: questi lascia l'ufficio del produttore Mr. Maroon in preda ad una nera desolazione e nulla può fare per consolarlo Valiant che ne ha compassione. La polizia trova il cadavere di Acme e dà subito la colpa a Roger...