Across the Universe (2007) (it)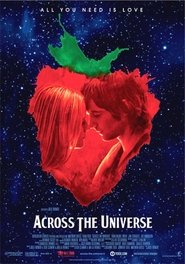 Titolo originale:
Across the Universe
Valutazione:
7.2 (Voti: 1038)
Data di rilascio:
2007-09-14 (2007)
Parole chiave:
cultural difference
,
1960s
,
university
,
fantasy sequence
,
musical
,
protest
,
anti war
,
music
,
riot
,
woman director
,
liverpool
,
police arrest
,
vietnam war
,
march
Across the Universe:
Negli anni sessanta, il giovane Jude lascia Liverpool, dove lavora nei cantieri navali, per cercare il padre emigrato negli Stati Uniti. Lì verrà a contatto con realtà nuove per lui, come i movimenti pacifisti, l'amore libero, la musica, ma soprattutto conoscerà l'amore per la bella Lucy. I due giovani avranno una storia, si uniranno al Dr. Robert e a Mr. Kite per lottare nei movimenti pacifisti e controculturali, dopo che il fratello di Lucy, Max, viene arruolato per combattere nella guerra in Vietnam, ma i tumulti che ne verranno divideranno i due amanti, che si ritroveranno alla fine del film.