Kingdom of Heaven (2005) (fr)
Slogan: Soit sans crainte face à tes ennemis !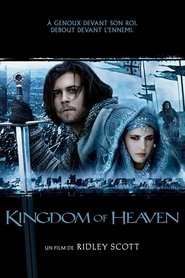 Titre original:
Kingdom of Heaven
Date de sortie:
2005-05-03 (2005)
Mots-cles:
jerusalem
,
israel
,
blacksmith
,
saladin
,
knight templars
,
12th century
,
knight
,
religion
,
epic
,
swordsman
,
order of the templars
,
king richard
,
crusade
Kingdom of Heaven:
Balian le forgeron découvre que son père est un seigneur Croisé, peu avant que celui-ci ne meure et que ses terres à Jérusalem ne lui reviennent. Parti sur place, il se range au côté des fidèles du roi Baudoin, qui tentent de maintenir un équilibre fragile entre les Croisés et les troupes de Saladin. Mais le roi est mourant et puissants sont ceux qui s'opposent à lui et à la paix.